Creating a New Customer Record

Information about your customers is kept in a special database.  Once a customer is in this system, you may easily select the customer when creating a quote and all relevant information will be copied into the document.  (of course, you can change it if you need to)

 

This same information is used by other Agenda Development programs to process & track customer returns and to

create NAFTA documents

.

 
Who can create or change a Customer record?
To create or change a customer record your user account must have the
Edit Customer Records option
box checked, or your user record must show that you are a super user or a MasterQ Manager.  (Other Agenda Development programs may also give access to these features in
their
user set-up procedures.)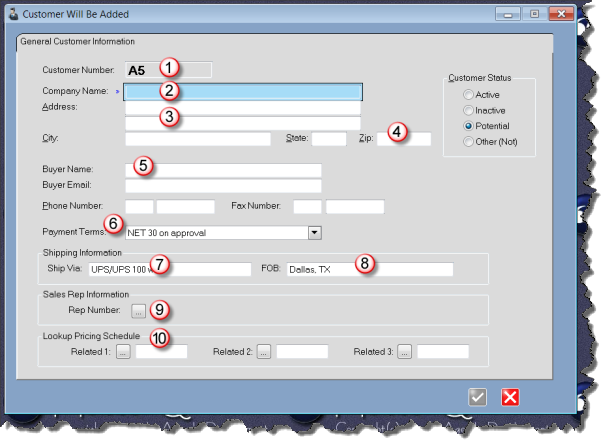 Customer Number

- depending on the

options

you have set, MasterQ may set the customer number for you automatically.  You may change this number if you choose.

Company Name - or customer name if you sell to individuals.  This name should be unique but does not have to be.

Address, City State - This is the default address that will be used for quotes.

Zip Code - The postal code is entered before the city & state.  MasterQ will look up the city & state and fill them in automatically for you. 

Buyers Name & Email - Quotes will default to this person, but you can select from anyone you know at the customer.  Of course, you can add new names too.

Payment Terms

- Select from any of the

payment terms

you have set up.  The entry you specified as the

system default payment terms

when you set up the system record will be used initially for new customers.

Ship Via

- The

default Ship Via

you specified in the System file is used when you create a new customer, but of course it can be changed.

FOB

- The

default FOB

you specified in the System file is used when you set up a new customer, but of course it can be changed.

Sales Rep

- Press this button to select a salesperson from the list of

sales people

you have set up.

 

 

 

 

 

 

Look Up Pricing - You may enter up to three related companies for this customer.  Parent or related companies for example.  When a quote is created, MasterQ will check to see if the current customer has purchased or has been quoted on the part you are quoting.  MasterQ will then check each of these three related companies and tell you if any of them have purchased or have been quoted.

 

See some clever applications of look up pricing

here

.