Importing Shipment History
| | |
| --- | --- |
| | Importing shipment histories is a feature of the MasterQPRO version of the program.  For a complete comparison of the features, click here. |
Importing customer's shipment history is an optional step that offers many advantages to users of Agenda Development software.  Once imported, you can:
Quickly examine a customers entire ordering history  including part numbers, quantities, prices paid, ship dates and customer PO numbers
Filter the customer shipment history by date, part number, PO number, price paid, etc.
Displays customer's 12 month

total sales dollars

on the customer form
What is required:
You need to have another program that currently holds this information

The other program needs to have the ability to export this data in a comma delimited value file (CSV).

Your customer numbers used in your

other

program must be the same customer numbers you use in MasterQ.
NOTE:  If you do not currently use another program for order entry functions, contact Agenda Development for options.
Steps required:
Using your other program, export a CSV file containing the following fields in the order listed below:
Date in a format of MM/DD/YYYY

Customer number

Part number

Quantity purchased (negative numbers allowed for returns)

Price paid

Customer PO number

Shipper Number

optional text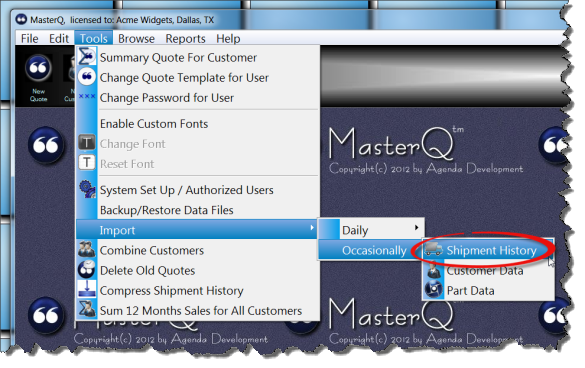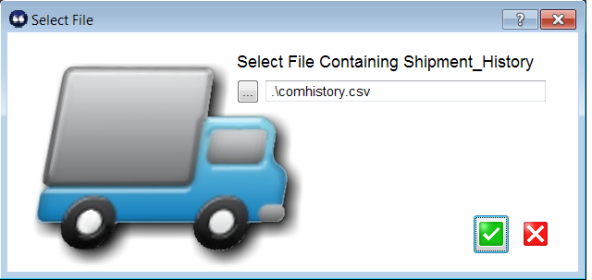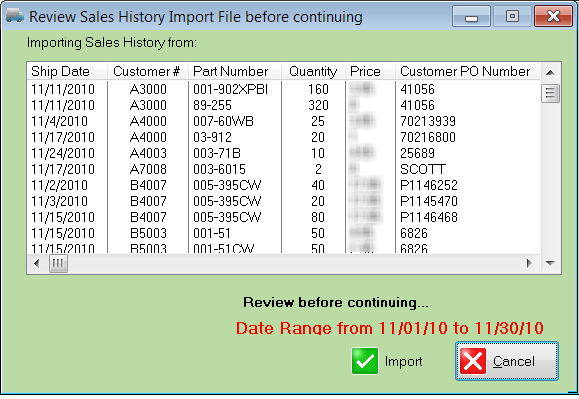 MasterQ will:
identify the date range of the shipment history you are importing

clear out any existing history for that time period

build your history file for each customer

build the monthly summary for each part